Posts for: September, 2021
By Maple Drive Dentistry
September 19, 2021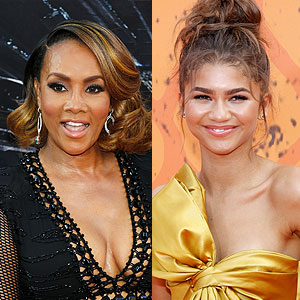 Kill Bill fans have been pressing for a third installment of the stylized revenge tale since Kill Bill, Volume 2 hit the theaters in 2004. Finally, filmmaker Quentin Tarantino is talking about the long-awaited Volume 3 as if it might soon become a reality. The third movie in the franchise would most likely focus on the now-grown daughter of the character played by Vivica A. Fox in the first two. Vivica recently made known that should Kill Bill, Volume 3 go into production, she thinks 24-year-old actress and singer Zendaya would be perfect for the role.
Although Zendaya is a few inches taller than Vivica, the two women have a few things in common. Besides being talented movie and television actresses who have won awards for their roles, they both have camera-ready smiles. And both Vivica and Zendaya can thank their dentists for helping their smiles be their best.
In 2016, Vivica told Dear Doctor magazine that her smile needed a boost, so she opted for dental veneers to correct gaps between her teeth—and she's very happy with them. "I love my veneers!" she exclaimed. Zendaya also had help in achieving her Hollywood-perfect smile. In 2011, early in her career on the Disney channel, she wore clear orthodontic aligners to straighten her teeth. To further perfect her smile, she visited her dentist for professional teeth whitening in 2016, inviting a film crew along to show how easy and effective in-office tooth whitening is.
But you don't have to be a celebrity to enjoy smile-enhancing dental treatments. They are great options for anyone who wants to improve the look of their smile.
Teeth whitening. If your teeth are looking yellowed, in-office whitening can make them up to 10 shades brighter in one visit! Some people prefer professional at-home whitening kits, which produce great results more gradually.
Bonding or veneers. For small chips and cracks, cosmetic bonding can cover flaws by adding layers of a tooth-colored material over the tooth. For bigger flaws, heavy discoloration or gaps between teeth as Vivica had, dental veneers may be the answer. These custom-made thin porcelain shells cover the front-facing surface of the tooth, hiding imperfections to give anyone a Hollywood smile.
Orthodontics. Crooked teeth can detract from the look of a smile. While traditional braces are an option, many people with mild to moderate alignment issues find removable clear aligners the perfect way to get the smile they desire with minimal impact on their daily activities. Clear aligners are very subtle and can be removed for eating and cleaning as well as for special occasions—or for filming scenes, as Zendaya knows.
Contact us or schedule an appointment for a consultation to see if professional teeth whitening, cosmetic bonding or veneers, orthodontics, or another dental treatment could enhance your smile. You can also learn more by reading the Dear Doctor magazine articles "Important Teeth Whitening Questions Answered" and "How Your Dentist Can Help You Look Younger."
By Maple Drive Dentistry
September 09, 2021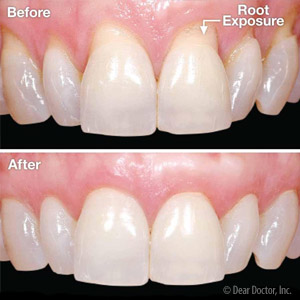 The worst outcome of periodontal (gum) disease is tooth loss—but it isn't the only form of misery you might suffer. One of the more troublesome results associated with gum disease is gum recession.
Normal gum tissue covers teeth from just above the visible crown to the roots, providing protection against bacteria and oral acid similar to the enamel on the crown. But advanced gum disease can weaken these tissues, causing them to pull away or recede from the teeth.
Not only can this diminish your smile appearance, but the exposed areas are more susceptible to further disease and painful sensitivity. And it certainly can accelerate tooth loss.
But there are some things we can do to reduce the harm caused by gum recession. If we're able to diagnose and treat a gum infection early while the gums have only mildly receded, the tissues could stabilize and not get worse.
The chances for natural regrowth are unlikely, especially the more extensive the recession. In such cases, the gums may need some assistance via plastic periodontal surgery. Surgeons reconstruct gum tissues by grafting like tissues to the area of recession. These grafts serve as a scaffold for new tissues to gradually grow upon.
There are two general types of grafting procedures. One is called free gingival grafting. The surgeon completely removes a thin layer of skin from elsewhere in the mouth (such as the palate), then shapes and attaches it to the recession site. Both the donor and recession sites heal at approximately the same rate, usually within 14-21 days. This procedure replaces missing gum tissue, but doesn't cover exposed tooth roots to any great extent.
In cases of root exposure, dentists usually prefer another type of procedure, known as connective tissue grafting.  The donor tissue is usually taken again from the palate, but the design of the surgery is different. A flap of tissue at the recipient site is opened so that after the connective tissue from the palate is placed at the recipient site to cover the exposed roots, the flap of tissue covers the graft to provide blood circulation to the graft as it heals.
Both kinds of procedures, particularly the latter, require detailed precision by a skilled and experienced surgeon. Although they can successfully reverse gum recession, it's much better to avoid a gum infection in the first place with daily oral hygiene and regular dental care.
If you would like more information on treating gum recession, please contact us or schedule an appointment for a consultation. You can also learn more about this topic by reading the Dear Doctor magazine article "Periodontal Plastic Surgery."