Posts for tag: crowns
By Maple Drive Dentistry
August 20, 2021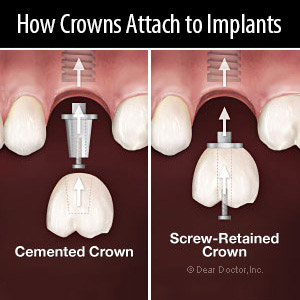 If you've decided on a dental implant to replace a missing tooth, you've made a great choice. Implants are a big favorite of both dentists and patients, not only for their life-likeness, but also their durability. Studies show that more than 95% of implants survive after ten years.
As you may know, single tooth implants are composed of two main parts: a metal post (usually titanium) imbedded in the jawbone; and a life-like crown affixed to the end of the post. But what you may not know is that there are two ways to attach the crown—either with screws or with dental cement.
Neither way is superior to the other—both have their own set of advantages and disadvantages. A cemented crown, for instance, usually looks more like a natural tooth than a screw-retained crown (more about that later) and dentists have more flexibility in making them look natural.
But cemented crowns require an additional piece of hardware called an abutment to better match it with the implant, something unnecessary with a screw-retained crown. Some people can also experience a reaction to the cement resulting in inflammation or even bone loss. And once installed, removing the crown later for repair or replacement is much more difficult than with a screw-retained crown.
Besides attaching directly to the implant, screw-retained crowns don't require cement and are more easily attached and removed. But the screw-hole can pose some aesthetic problems: Although it can be filled with a tooth-colored filling, the tooth's appearance isn't as ideal as a cemented crown.
So, which one is best for you? That will depend on the type and location of teeth being replaced, as well as your dentist's preferences. For instance, a more attractive cemented crown may be better for a visible front tooth, while a screw-retained crown might be a good choice for a back premolar or molar where appearance isn't as big a factor.
In the end, it's likely your dentist will discuss the pros and cons for each method as it pertains to your individual case. Whichever way your crown attaches, the end result will still be a life-like tooth that could last you for years to come.
If you would like more information on dental implants, please contact us or schedule an appointment for a consultation. You can also learn more about this topic by reading the Dear Doctor magazine article "How Crowns Attach to Implants."
By Maple Drive Dentistry
July 01, 2021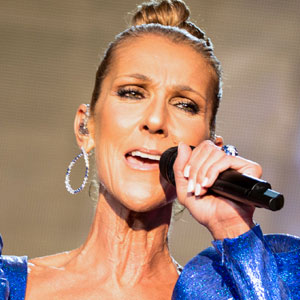 For over three decades, Celine Dion has amazed audiences and fans with her powerful singing voice. Best known for her recording of "My Heart Will Go On," the theme song for the movie Titanic, Dion has amassed global record sales topping 200 million. In her early singing days, though, she struggled with one particular career obstacle: an unattractive smile.
The Canadian-born performer had a number of dental defects including crooked and discolored teeth, and—most prominent of all—abnormally large cuspid or "canine" teeth (located on either side of the four front incisors). They were so noticeable that one Quebec celebrity magazine gave her the unflattering nickname "Canine Dion."
This isn't an unusual problem. Since human canines are already the longest teeth in the mouth, it doesn't take much for them to stand out. Our ancient hunter-gatherer ancestors needed these large, pointed teeth to survive. But with the evolution of agriculture and industry, canine teeth have become gradually smaller—so much so that when they're abnormally large, they don't look right in a smile.
So, what can be done if your canines embarrassingly stand out from the rest? Here are some of the options to consider.
Reduce their size. If your canines are just a tad too long, it may be possible to remove some of the enamel layer in a procedure called contouring. Using this technique, we can reduce a tooth's overall size, which we then re-shape by bonding composite resin to the tooth. It's only a good option, though, if your canines have an ample and healthy layer of enamel.
Repair other teeth. The problem of prominent canine teeth may actually be caused by neighboring teeth. When the teeth next to the canines are crooked, the canines can appear more prominent. Alternatively, other teeth around the canines may be abnormally small. Braces or clear aligners can correct crooked incisors, and applying porcelain veneers to smaller teeth could help normalize their length.
Apply dental crowns. In some instances, we can reduce the canines in size and then bond porcelain crowns to them. This is the option that Dion ultimately chose. The natural teeth are still intact, but the crowning process transforms them into properly proportioned, life-like teeth. There is, however, one caveat: The alteration to these teeth will be permanent, so they will need a crown from then on.
Besides crowning her canine teeth, Dion also underwent other dental work to straighten and whiten her other teeth. As a result, this superstar performer now has a superstar smile to match and so can you if your teeth are less than perfect. These or other cosmetic enhancements can give you the look you truly desire. All it takes is an initial visit with us to start you on the road to a transformed smile.
If you would like more information about various cosmetic solutions for your smile, please contact us or schedule a consultation. To learn more, read the Dear Doctor magazine article "Porcelain Dental Crowns."