Posts for tag: orthodontics
By Maple Drive Dentistry
June 03, 2020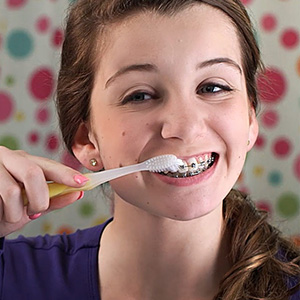 Keeping your teeth and gums healthy isn't always easy—and it's even more of a challenge if you're wearing orthodontic appliances like braces. That's why a fair percentage of patients wearing braces also contend with tooth decay or periodontal (gum) disease.
The reason is simple: The orthodontic hardware makes it difficult to fully reach all parts of teeth surfaces with your toothbrush or floss. As a result, you can miss removing some of the accumulated plaque, the thin film of bacteria and food particles most responsible for dental disease. And it only takes a short amount of time (just days with gum disease) for a bacterial infection to begin.
But while avoiding dental disease is difficult while wearing braces, it's not impossible. Here are 4 ways you can minimize your dental disease risk while undergoing orthodontic treatment.
Be diligent with your daily hygiene. Even though it's more difficult, don't slack on daily brushing and flossing. It does require more time to work the brush around and between the wires and brackets, but taking the time will help you clear away more plaque you might otherwise miss. It may also help to switch to a multi-tufted, microfine bristled toothbrush if you're not already using one.
Use a water irrigator. If straight thread flossing is proving too difficult (and even with a floss threader), try using a water irrigator. This device emits a pulsating spray of pressurized water that loosens and flushes away plaque between teeth. Clinical studies consistently show water flossing is effective for reducing plaque in orthodontic patients.
Lower your sugar intake. Sugar left over in the mouth is a prime food source for bacteria that cause tooth decay or gum disease. Reducing sugary foods and snacks can help reduce bacterial populations and lower your disease risk. You can also fortify your oral health with healthier foods that contain calcium and other minerals.
Keep up regular dental visits. In addition to your orthodontic adjustments, don't neglect your regular visits with your family dentist. Semi-annual cleanings help remove any plaque and calculus (calcified plaque) you may have missed. Your dentist can also monitor your health and boost your disease prevention through topical fluoride treatments or prescribed antibacterial mouth rinses.
If you would like more information on dental care while wearing braces, please contact us or schedule an appointment for a consultation. You can also learn more about this topic by reading the Dear Doctor magazine article "Caring for Teeth During Orthodontic Treatment."
By Maple Drive Dentistry
March 01, 2019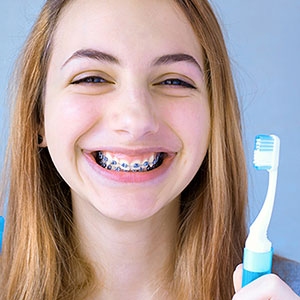 There are a few things you need to do — and not do — while wearing braces: avoid hard or sticky foods, for example, or wear protection during sports to avoid injury. There's one important thing, though, that should be at the top of your list — extra attention to daily brushing and flossing.
The fact is your risk for developing tooth decay or periodontal (gum) disease increases during orthodontic treatment. This is because the braces make it more difficult to reach a number of locations around teeth with a toothbrush or floss. Bacterial plaque, the source for these dental diseases, can subsequently build up in these areas.
Teen-aged orthodontic patients are even more susceptible to dental disease than adults. Because their permanent teeth are relatively young they have less resistance to decay than adults with more mature teeth. Hormonal changes during puberty also contribute to greater gum disease vulnerability.
There are some things you can do while wearing braces to avoid these problems. Be sure you're eating a nutritious diet and avoid sugary snacks or acidic foods and beverages (especially sports or energy drinks).  This will deprive bacteria of one of their favorite food sources, and the minerals in healthy food will contribute to strong enamel.
More importantly, take your time and thoroughly brush and floss all tooth surfaces (above and below the braces wire). To help you do this more efficiently, consider using a specialized toothbrush designed to maneuver around the braces. You might also try a floss threader or a water irrigator to remove plaque between teeth. The latter device uses a pressurized water spray rather than floss to loosen and wash away plaque between teeth.
Even with these efforts, there's still a chance of infection. So, if you notice swollen, red or bleeding gums, or any other problems with your teeth, visit us as soon as possible for an examination. The sooner we detect and treat dental disease while you're wearing braces, the less the impact on your future smile.
If you would like more information on taking care of teeth while wearing braces, please contact us or schedule an appointment for a consultation. You can also learn more about this topic by reading the Dear Doctor magazine article "Caring for Teeth During Orthodontic Treatment."
By Maple Drive Dentistry
November 22, 2017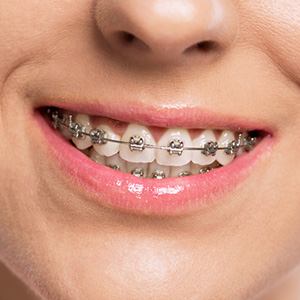 If you've ever looked at younger photos of yourself, you're sure to notice differences with your present appearance. Of course, your basic features might appear much the same. But maybe your lips seemed a little thicker back then, or your nose a bit less prominent.
This is because your facial features don't stop growing when you reach adulthood—they continue to change throughout your life. For example, lips reach their maximum thickness by around age 14 for girls or age 16 for boys; they'll remain at that level of thickness for a few years before gradually thinning throughout adulthood. The nose will also continue to grow, becoming more prominent especially as changes in the lower part of the face can make the chin appear shorter.
Although each of us ages at different rates and in different ways, these general physical trends are somewhat predictable. That's why we can use the knowledge of how our facial physiology changes with age to fine tune orthodontic or other cosmetic dental treatments. The most optimum approach is to consider treatment in the early stages of bite development during childhood or early adolescence.
This means we're doing more than correcting a patient's current bite: we're also taking into account how tooth movement now might affect the jaw and facial structures later in life. By incorporating our understanding of age-related changes into our treatment we might be able to provide some hedge against the effects of aging.
This approach starts with early comprehensive dental care, preferably before a child's first birthday, and an orthodontic evaluation at around age 6 to assess bite development. It may also be necessary to initiate interceptive treatment at an early age to lessen or even eliminate a growing bite problem to help ease the extent of future treatment. And if a bite requires correction, early evaluation can help create a timetable for effective treatment in later years.
Taking this approach can correct problems now affecting both dental health and appearance. But by acknowledging the aging process in our treatments, we can build the foundation for a beautiful smile well into the future.
If you would like more information on keeping an attractive smile throughout your life, please contact us or schedule an appointment for a consultation.