Posts for: December, 2017
By Maple Drive Dentistry
December 22, 2017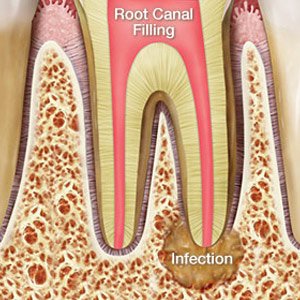 Most first-time root canal treatments achieve their purpose in saving an internally decayed tooth and extending its life to match those of the patient's non-decayed teeth. Occasionally, though, a root canal-treated tooth may become re-infected by decay.
There are a number of reasons for this: the permanent crown meant to add further protection against decay may have been delayed, giving bacteria an opening to re-infect the tooth; it's also possible the original seal for the pulp chamber and root canals after filling wasn't sufficient to prevent bacterial contamination.
There's also another reason that's very difficult to foresee — the presence of narrow, curved root canals in the tooth that can pose complications during the procedure. Some of these known as accessory or lateral canals branch off the main canals to create a complex network that's difficult to detect during the initial procedure. If they're not cleaned out and filled during the procedure any tissue trapped in them can remain infected and ultimately die. If these canals also open into the periodontal membrane at the attachment between the teeth and bone, the infection can spread there and become a periodontal (gum) infection that can trigger future tooth loss.
Fortunately, a reoccurrence of infection isn't necessarily a death sentence for a tooth. A second root canal treatment can correct any problems encountered after the first treatment, especially complications from accessory canals. It may, though, require the advanced skills of an endodontist, a dental specialist in root canal problems. Endodontists use microscopic equipment to detect these smaller accessory canals, and then employ specialized techniques to fill and seal them.
If you encounter pain or other signs of re-infection for a tooth previously treated with a root canal procedure, contact us as soon as possible. The sooner we can examine and diagnose the problem, the better your tooth's chances of survival by undergoing a second root canal treatment.
If you would like more information on tooth preservation through root canal treatment, please contact us or schedule an appointment for a consultation. You can also learn more about this topic by reading the Dear Doctor magazine article "Accessory Canals."
By Maple Drive Dentistry
December 07, 2017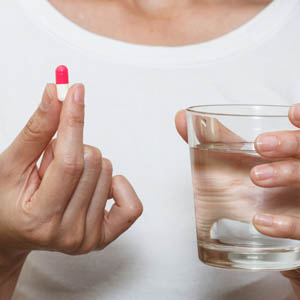 Dental implants are considered today's premier method for restoring missing teeth. Obtaining an implant, though, is often a long process and the implants themselves must be surgically placed within the jaw bone. Nothing to worry about, though: implant surgery is a minor to moderate procedure akin to a surgical tooth extraction.
Still like any surgery, this procedure does involve cutting into the soft tissues of the gums and could allow oral bacteria to enter the bloodstream. While most bacteria in the mouth are harmless (and even beneficial) a few strains can cause disease. For some people, especially those with certain heart conditions or joint replacements, this could potentially cause serious issues in other parts of their body that might be highly susceptible to infection.
To guard against this, it's been a long-standing practice in dentistry to prescribe antibiotics to certain high risk patients before a procedure. Although this departs from the normal use of antibiotics for already occurring infections, due to the circumstances this has been deemed an acceptable measure to prevent disease.
In the past, the categories of patients for which preventive antibiotics were appropriate had been more extensive. In recent years, though, both the American Dental Association and the American Heart Association have adjusted their recommendations. Today, your dental provider may recommend antibiotic pre-treatment if you have a prosthetic (artificial) heart valve, a history of infective endocarditis (inflammation of the inner linings of the heart), a heart transplant or certain congenital heart conditions.
While physicians may still recommend premedication with antibiotics for patients with joint replacements, it's not as blanket a standard as it might once have been. It's now only recommended for certain cases, such as patients who've received a prosthetic joint within the last two years.
There's still an ongoing debate about the effectiveness of antibiotic pre-medication. However, there's evidence medicating before procedures with antibiotics can be beneficial in avoiding infection. If you fall into one of the categories just mentioned or are concerned about infection, feel free to discuss with your dentist if using antibiotics before your implant surgery is wise move for you.
If you would like more information on antibiotic treatment before oral surgery, please contact us or schedule an appointment for a consultation. You can also learn more about this topic by reading the Dear Doctor magazine article "Implants & Antibiotics: Lowering Risk of Implant Failure."